NanoTech Solves Back Pain Puz

zle! 
3 High-Tech Solutions for Relief
nCAP Pain Relief can be used for back pain associated with: Lumbar - Nerve - Slipped Disc - Muscle Strain - Sciatica - Pinched Nerve to name a few and the effects will start to be noticed within minutes. 
nCAP Pain Relief patches are durable, reusable, non-adhesive and can be placed directly on the skin, slipped into a pocket, pinned to clothes, or placed under a hat. Various patch sizes are available to comfortably fit different parts of the body. 

100% Money-Back Guarantee!
"Between the Pain and the Brain"
Hi, I'm Rhett Spencer;
a few years ago a motorcycle accident left me with 6 broken ribs and a short stay in the hospital
. The doctors kept me overnight to determine how many opioid painkillers I would need to take to breathe deep enough to prevent the onset of pneumonia or worse death. The very next day after taking the opioids, other painful conditions arose, this time from constipation! It was like reliving the accident over and over again.
It was after one of these "near death" experiences I discovered the solution that allowed me to return to peak condition and rid myself of those addicting, dangerous and expensive pain medicines forever.
Since then 
the solution
 has been used on all sorts of pain, from headaches to feet and everywhere in between. I'm not saying it will work for everyone, but it has worked for most. So why not give it a try to see if it will work for you.
To better understand the technology let's take a short refresher course in biology, don't worry it
won't
 take long. 
Biology: How Nerve Cells Work 
The human body is operated by electricity; this electricity is generated from chemical reactions within our cells. Very tiny electrical signals pass from one cell to another through a neural network comprised of Dendrites, Axons and the Synapse Gap between the two. Either Sodium-Gated or Calcium-Gated Ion Channels in the Plasma Membrane generate the electrical action potentials in human cells. 
Pills and Medicines Block Signals 
Pain medicine and herbal remedies reduce the effectiveness of the nervous system's ion channels to pass the electric signal – thus reducing the intensity of the pain messages along with other needed signals to and from your brain. Reducing these signals to very low levels by overdosing on pain medicine can cause death. 
nCAP
Works In Harmony with the Signals 
nCAP
Pain Relief does just the opposite of pills and medicines,
instead,
it uses nanotechnology to enhance, not block the body's tiny electrical signals and frequencies encouraging faster healing while relieving pain. It's a thin, reusable, non-magnetic wearable patch infused with patented "Neuro Capacitive" technology. It's a non-invasive, drug-free solution providing pain relief while allowing the body to heal. 
To use, you simply place
nCAP
Pain Relief

"Between the Pain and the Brain"

for fast relief.  
It's simple and guaranteed - Order now
and see how much better you feel. After all, with so much to gain and with absolutely nothing to lose shouldn't you at least give it a try? 
100% "You Better Be Happy!"
7 Day Money-Back Guarantee!

3" X 11" the #1 choice for Back Pain
!
2" X 5" Pain Relief Patch
4" X 4" Pain Relief Patch
3" X 11" Pain Relief Patch
Keep your Pain Patch in place with our soft, breathable, stretchable, washable headband - capable of holding up to two (2) nCAP Pain Relief Patches (2" X 5" size).
Made from 95% Polyester, 5% Spandex
Can be worn on top or underneath clothing
Perfect for headaches, toothaches, arms, legs, ankles
Overall measurement - 38" X 2.5"
Keep your Pain Patch in place with our durable elastic stretch belt and soft, breathable, stretchable, washable pockets.
Includes one (1) pocket capable of holding a 3" X 11" Pain Relief Patch
Includes one (1) pocket capable of holding a 4" X 4" Pain Relief Patch
Includes one (1) elastic belt - adjusts to fit nearly everyone
Fabric pockets are 100% Polyester
Use on arms, legs, back, shoulders, mid-section and many more areas
Can be worn on top or underneath clothing
Overall length with 4" X 4" pocket is 40"
Overall length with 3" X 11" pocket is 47"
Simply choose a size that is convenient for the location of pain you are experiencing:

The smaller 2x5 inch size is great for necks, headaches and limbs.

The mid 4x4 inch size is perfect for shoulders, menstrual pain, legs or knees.

The large 3x11 inch size works on backs, legs or stomach pains or to sleep on.
Q. Should I stop taking my pain medicine?
A.
We
 will not tell you to stop taking your medications you will need to check with your doctor.  The patch will work alongside your medications.
Q. What happens when it gets wet?
A.
The patch is very durable and

is
water
resistant. Dry the patch off and set it in the sun for a bit to warm it up and it should be good to go back to work for you.  Multiple washing machine events will eventually destroy the patch.
Q. Where do I place the Patch? 
A.
You place the patch "Between the Pain and the Brain" in other words you would place the patch above the area of pain, not directly over the pain as you would with medicated patches. For example, if your hand hurts you would place it just above your wrist.
Q. How do I use it? How do I apply it?
A.
The patches do not need to be placed directly on the surface of the skin; they can be separated by a thin piece of clothing or cloth. nCAP Pain Relief can be held in place using a variety of options such as medical or athletic tape, safety pins, hook and loop, other tapes and wraps, or simply placed over the desired area or laid upon while resting or sleeping.


Q.
How many times can I reuse them? 
How long do they last?
A.
The patches are very durable and will last a long time (Months, Years), as long as you keep them out of the washing machine.
Q. How do I clean them?
A.
The patches should be cleaned by hand with a damp cloth moistened with a mild detergent and then air dried.
Q.
Will this help speed my recovery when I've overdone it during a workout or playing sports?  
A.
Post-exercise muscle soreness and injuries are familiar to every sports enthusiast, nCAP Pain Relief will get you on the fast track to feeling great again! 
Q.
Do they hold up to sweat? 
A.
Yes, they hold up very well to sweat, we have a few very sweaty users.  
Q.
Will the 4x4 work on my back?

A
.
Yes, the 4x4 patch is a great workhorse, it can be used all over your body, you will find it to be a little more location specific than the larger one. 
Q.
Do I need a prescription?

A.
No prescription is needed to purchase one of our pain relief patches. 
Q.
Will it work for Trigeminal Neuralgia? 
A.
We have a user who has this condition and it works very well for them when placed behind their ear. 
Q.
I am old and my skin can't take adhesives, how can I use this patch? 
A.
The patch can be safety pinned to clothing in the desired location or can be laid upon while sleeping or resting. The patch does not require direct skin contact and can be placed above bandages or other protective garments. The closer the proximity to the body the better. 
Q.
How many patches can I wear at once? 
A.
We recommend beginning with one to understand how it is affecting your pain. You can then add more if needed. 
Q.
After applying patches, how long before they Really, Really begin to work? 
A.
The effect can be felt in minutes, this makes it easy to find the location that works best for your pain. 
Q. Do you have to keep wearing it for the pain to remain gone? 
A.
Depending on what is causing your pain will determine this. For nerve pain that is actively being agitated the patch will need to be worn longer than pain from bruises and soft tissue pain from surgeries. 
Q. After it's removed how long does the pain-free effects last? 
A.
What we have witnessed is the longer you wear the patch the longer you can go without it for chronic conditions. For other injuries, the patch has helped remedy the condition in a shorter time than the norms.
Q. Is nCAP Pain Relief patented?
A.
Yes,  it's covered by one or more patents and pending patents that can be found listed here http://ncaplicensing.com/patents.html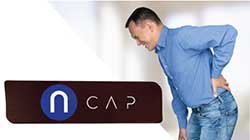 What kind of Back Pains are there? 
Back pain comes in many forms from a dull ache to sharp shooting pain that takes your breath away. Everyone can have back pain of some sorts from lifting, falling, twisting etc. The motion of our lives can put strain on our back when we least expect it. As we get older back pain is more common, poor physical fitness can accelerate it. Being overweight puts more strain on our backs; arthritis and cancer are additional causes of back pain. At work if you lift, push, or pull while twisting your spine, you may get back pain. If you work at a desk all day and do not sit up straight, you may also get back pain. 
Back pain can be disease induced from: Scoliosis, Spondylolisthesis, Arthritis, Spinal stenosis, Pregnancy, Kidney stones, Infections, Endometriosis and Fibromyalgia. 
nCAP Pain Relief can help you by providing back pain relief. Why live any longer with pack pain, order your nCAP Pain Relief today, Get your life Back!

Drugs and Chiropractors
Over the counter drugs such as acetaminophen and aspirin or prescription pain medications along with topical creams and ointments rubbed onto the skin are common pain relief remedies. Non-Steroidal Anti-Inflammatory Drugs (NSAIDs) are drugs that reduce both pain and swelling. 
Manipulation is another source of pain relief, professionals use their hands to adjust or massage the spine or nearby tissues. They may apply transcutaneous electrical nerve stimulation (TENS). Studies have shown that TENS treatments are not always effective for reducing pain.
 nCAP Pain Relief can reduce pain without the ingestion of pills, creams, being frozen or electrical shocks.
Exercising will help keep your back muscles strong. A healthy weight and vitamins will also keep your bones healthy. Stand up straight and avoid heavy lifting, bend your legs and keep your back straight when lifting. 
Treatment for back pain depends on what kind of pain you have. Acute back pain usually gets better without any treatment, but you may want to take acetaminophen, aspirin, or ibuprofen to help ease the pain. Hot or cold packs can be soothing to stiff backs; heat reduces muscle spasms and pain. Cold helps reduce swelling and numbs the pain area; this treatment does not fix the cause of chronic back pain.
QUESTIONS OR COMMENTS? WE LOVE TO HEAR FROM YOU!